In year 2011, RBI has come up with a clear notice that, Indians are not allowed to trade in International Forex OTC (over the counter) market (you can read it on the website of RBI). In the meanwhile, stock exchanges has opened the gateway for traders to take positions in currencies like USDINR, EURINR, GBPINR and JPYINR. Currently these four currency pairs are available for trading, But there is a trick by which big traders are trading EURUSD, GBPUSD and USDJPY using those 4 currencies. This trick is known as creating exotic currency pairs i.e. by using standard currency pairs you can create exposure into major currency pairs. This is done by taking positions on different currency pairs, long and short combination.
Example: If you wish to be long on EURUSD, then long EURINR and short sell USDINR. So with these two positions you are net long on EURO and net short on USD. Where as your position in INR will be neutral as you are both long and short on it. For more help look on the below image.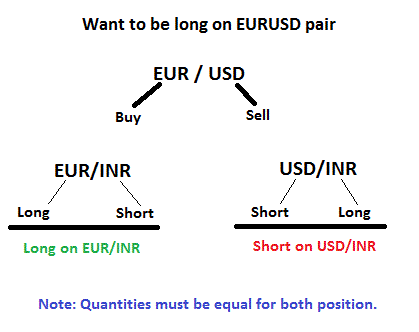 Article published on 18 August 2012.