This is my second article for ichimoku indicator and I am sharing more information on this system. In our previous article we have seen that how crossover are traded, now traders don't just trade those crossovers between slow and fast lines (Tenkan-sen and Kijun-sen). Another element for taking correct trade is to look at the cloud (known as Kumo), for taking long position in nifty future we will see that Tenkan-sen crosses over Kijun-sen and this is happening above the cloud. Just watch below chart: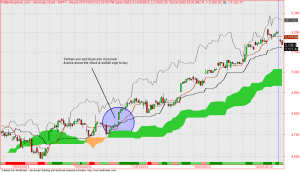 Now see if price is below Kumo (cloud) and then look for the crossover forming with Tenkan-sen going below Kijun-sen, that will be strong selling opportunity on nifty future.
This is how ichimoku is used for taking long or short trade in nifty future, more over I will share final article based on the lagging line of this ichimoku system. Hope you like this. You can also follow me on facebook and twitter.