<!—OurNifty.com Below Title—>
Nifty future has been trading in its medium term trading range, but VIX is now inching lower. According to charts Volatility index VIX is seen at lowest level in last 8 months. This lower VIX suggests that nifty future is completely ready for a breakout and strong moves will be expected in the coming trading sessions. The direction of breakout that I see is upward, also I am extremely bullish on banking sector now.
Nifty future trading in a range and VIX going lower is smart sign that markets will be seeing breakout very soon. I would suggest my dear traders to take heavy long positions on every decline that you see, such opportunities comes very less in the market, hence take full advantage of it. 🙂 Also I would say traders who are a bit conservative (low risk traders), must wait for breakout above 5425 (closing basis) then only take long trades. I believe there is plenty of time ( may be 2 weeks) for nifty future to give a classic breakout.
<!—OurNifty.com Random—> <!—OurNifty.com Random 2—>
Here is the explanation on why market will give strong breakout: Above I have said India VIX is at multi-months low, VIX is calculated from nifty option orders available in the market. Lower VIX tells that Nifty option writing is getting thinner, that means option writers (Short sellers) are not willing to take positions in nifty options, reason might be they are expecting a breakout. Even in the past we have seen when VIX was at low, nifty future saw a strong breakout. Look at India's VIX chart below: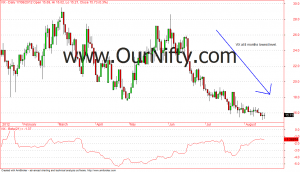 <!—OurNifty.com Below Post—>