Bank nifty future on last Friday has closed at a important decision level which will give a trading idea for next week. Last Fridays closing was a very important as we have seen a very negative candle closing around the days low. Also Bank Nifty future has underperformed Nifty future as we were expecting. The crucial area on daily chart for bank nifty is 12000, from where we will see some bounce or even a fresh rally. Slow stochastic indicator is showing oversold, so buyers may look for buying opportunity here, but as the index has traded lower I would like to lower the risk. we have Fibonacci 50% retracement level around 12100, also 100EMA is close to 12000 on daily chart so bounce is likely, but traders must also stay extremely cautious. This is key area to watch for I would suggest of taking fresh long positions on call options to limit the risk on the trade. Also bank nifty 12000 put option has highest open interest build up, so this could be potential support for short term.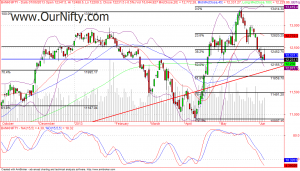 Our Bank nifty trading analysis:
Buy/accumulate bank nifty 12300 call options at premium between 160 – 200 with target premium of 375, while stop loss must be at 60. Risk to reward ratio is about 1:1 but still comfortable. article published on 10.6.13.