Nifty future traded higher last week, as it went from 5230 to 5645. But on daily chart level of 5640 is a resistance, and I believe it will hold nifty future sometime here before next up-move is seen. So I am going against the trend this time to play support resistance trade on nifty future, I would be looking to go short on nifty future around 5615 level, for targets as 5555 and then 5525. Stop loss will be placed at 5655.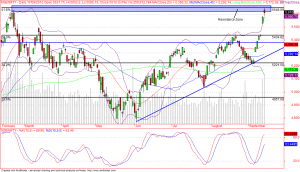 Be careful while short selling, as Risk-on sentiment has resumed in the market and it seems like it is going to gain strength further. But some pullback must be on the way before fresh high is created. So this is just 1 or 2 days view, keep in mind that short and medium term trend in still up. Article published on 18 Sept 2012.
We are conducting Technical Analysis Seminars in Pune and Mumbai, If you are potential partner then do call us on +91-9970777789. You can like our page on Facebook.