Being a trader, its very important to keep a track of your past success and failure trades. Doesn't matter if you are a newbie who just began trading career or a professional trader, Looking into the past trades will allows us to find out that profitable trading strategy, minimize the losses and focus on risk management. To do so, one of the easiest method is to keep a record of your trades in your trading diary, for every single trade that you take. You might be seeing this as a boring task but once you start maintaining the diary you will improve, however consistency is very important. You may start by a format similar to as shown below.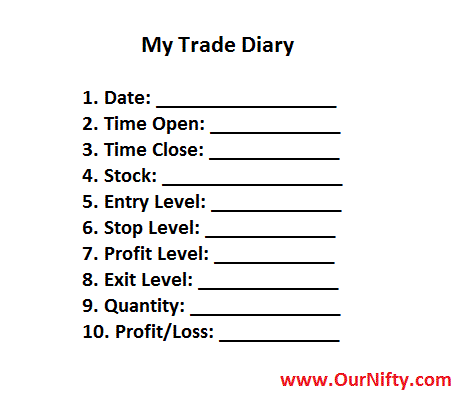 I suggest you maintain this format as its quite easy for tracking your past trades. The format you will be using in diary should be very easy to fill throughout the trading day. In this way when you wish to see your past trades, you will have all the important details for it.
Also one must include a setup/idea section for every trade, this will be the part that will allow you to write information regarding what did you see on chart that allowed you to take a trade. Now this may have details like, time frame, indicator, support/resistance, moving averages, Fibonacci retracements, market trend, stock trend, or any news about company, reforms by government, financial policy change. This detailed information will tell you your mistakes on failed trades and best thing for your winning trades.