Gold has made new all time high today morning and this move was a clear sign that gold has become the safe heaven for the uncertain stock markets. Even the news that S&P has downgraded US Economy from its AAA rating to AA+ has been taken seriously by market participants. Today we will be trading Gold by using Fibonacci retracement level in our trading and the trade confirmation with the help of Slow Stochastic indicator with settings as (15,5,5). So taking a look at the technical charts we see that there is Fibonacci support at 1660 level and one can start buying gold near that level as this is Fibonacci retracement level 23.6%. We will confirm our trade using slow stochastic indicator and cross over must be taken as buy signal, as we always recommend to trade in the direction of the trend on the charts. So this will be a clear buying entry and on must not trade short in gold at any point of time. Though some profit booking might temporarily push the markets lower, traders must use this pullback as a buying opportunity and using stochastic for the trade confirmation. Just take a look at the technical chart given below.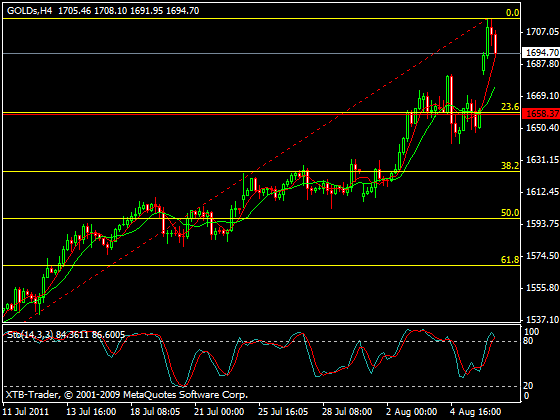 Trading Gold for Intraday:
Trading Gold using technical analysis, our advice is to trade long on Gold above 1660 level for intraday targets as 1682 and 1698. A protective stop loss order should be placed just under 1642 level.