It was last Friday which shocked the markets, as we have seen Non farming payroll (NFP) data being released. Also we saw S&P (Standard and poor's) has downgraded the US economy from AAA rating to AA+. Last week, Nifty futures has closed just above the 5200 after touching the 5116 level. According to technical levels we see that 5200 was very important level for markets as it was easily broken on last Friday, So we expect now markets has opened its way to 4800 levels now. As it is the only crucial level in markets now and the nifty futures is heading that way. Hence, we are looking for selling opportunities in this markets as long as the nifty futures August series is trading below 5323 level. We recommend to trade short in Nifty futures below this level for weekly target of 5111 and then 5033 levels, Traders must also place their trading stop loss above the 5340 level only on 2 days closing basis. We may see some profit booking, as markets has corrected sharply last week. It is sure that strong buying is not going to come in the broader markets next week, but still one has to be cautious as pullback may be strong. The open interest data suggests us there were huge short positions build up below 5200 levels and FII has sold shorts in this markets, they have sold about Rs.1788 crores worth shares in equity markets just on last Friday. Taking a look at technical charts, it is clear that near term trend is bearish and RSI indicator is also oversold so our entries are valid.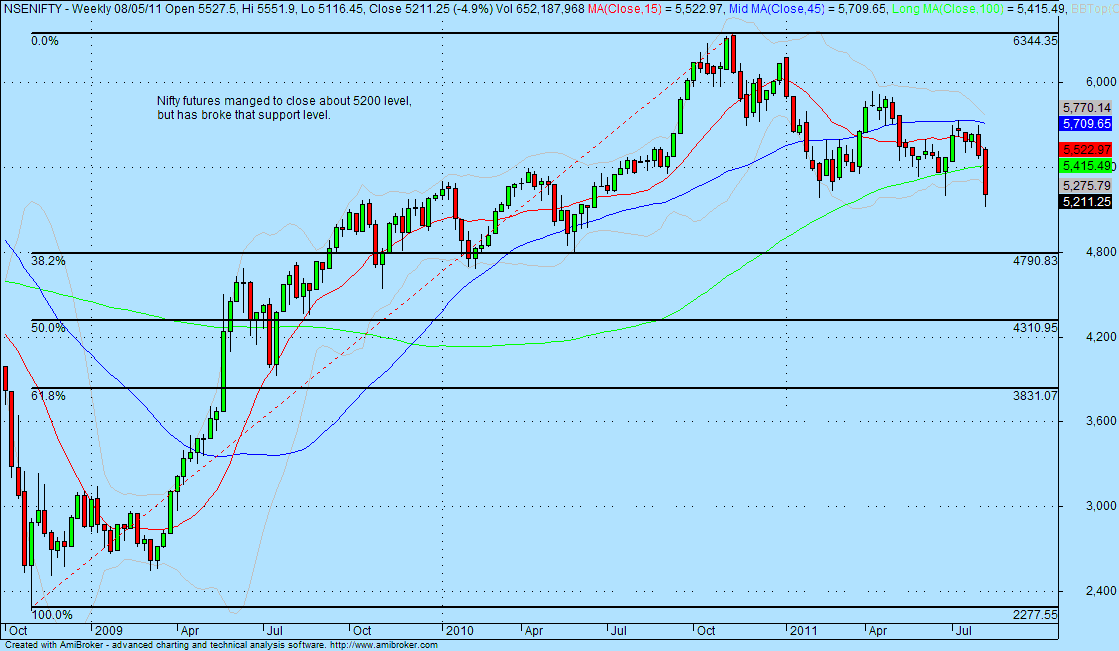 Look at the above chart, Nifty is below 100 EMA (green line on chart), price action has broken below the lower band on Bollinger band, this suggest us more downside is possible. Using Fibonacci retracement level we expect Nifty futures to take its support at 38.2% Fibonacci level which is at 4790 zone. This is enough for us to trade short in nifty futures for next week.
Our Trading Recommendation:
There is weakness in all the global markets due to US economy downgrade, as this downgrade has snatched its AAA rating which it had from last 95 years. So nifty futures will weaken next week below 5200 level. Technically nifty is having resistance at 5310 level and support at 5176 and 5116 levels.
Trading strategy for next week 8 August 2011:
Short sell nifty futures below 5205 level for weekly target 5116 and then 5033 level. Also place stop loss above 5320 level on closing basis.
We Expect Nifty to Touch 5116 and then 5033 Next Week.