Lupin Ltd. short term outlook for trading as we have seen this stock is in strong uptrend irrespective of market movement so we believe that LUPIN will strengthen further once it closes above 488 level. But for short term the stock remains very attractive. Technical analysis charts narrates us the LUPIN is supported by a rising trend-line and this up trend should continue and we may see bounce once the price action is near the trend-line. On charts a support of 452 do exist for short term, the momentum indicators such as MACD suggests us of weaker momentum in the near term, but if you have 2 to 3 months horizon then this stock has targets of 518 and then 581 levels, we also recommend investors to invest only 20% of their capital in this stock, as global uncertainty still exist. Stop loss orders should be placed just below the 450 level. The near term resistance for Lupin is at 487 level, so on crossing this level we can see Lupin to touch 518 very soon. We are using slow stochastic indicator to time our entries and as the trend is up we will be waiting for buying orders only till Lupin stock is trading above the 450 level on closing basis. As the stock is trading firmly above the its support level so we expect more buying coming in this stock near 468 today for intraday targets as 475 and then 479 levels. For intraday positions stop loss should be placed just below 467 level. Stochastic has confirmed the buying entry in this stock and hence all our levels must be valid for short term trading view. Even the strong volumes suggest us to take long entries on this stock for the short term basis. Investors must also take advantage of this short term trading pick, so start buying lupin from current levels. In our previous post of TTK PRESTIGE stock our targets were met in just 2 days.
Trading view for LUPIN Stock:
Buy LUPIN near 469 for short term (2 to 3 months) targets as 518 and then 581 levels. its is also advised to place the protective stop loss just under 450 level. This is very attractive trade setup as risk reward ratio is more than 1:2.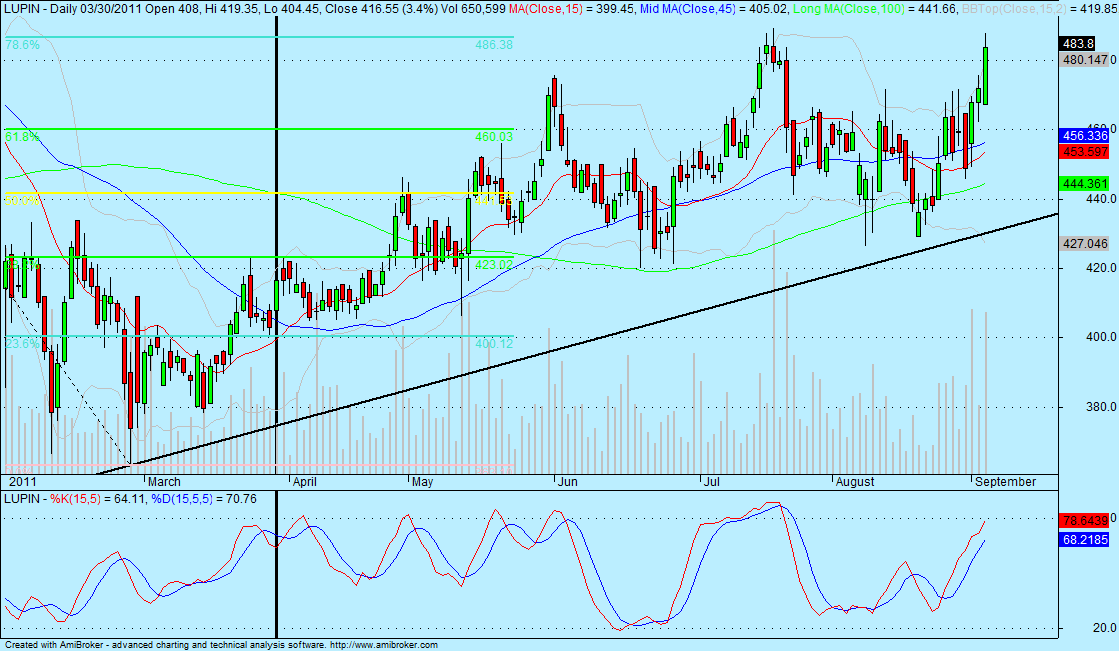 Nifty 5100 Call Option: Buy Nifty 5100 call option near 114 for intraday targets as 136 and then 149, we also advice traders to place stop loss for this position below 104 level.