ACC is one of those cement stocks, which are in a strong uptrend since 2009. So taking trade in the direction of this up trend, I look for buying this stock on every dips. You will see stock is taking support at trend line and bounces from there, trend line is excellent support in this case. Here to get the buy entry I use slow stochastic indicator, on the weekly chart of ACC below slow stochastic has given crossover below 20 level. When such crossover happens in the direction of trend, it gives strong buy signal, in this case it is ACC on weekly chart. Refer below chart of ACC on weekly time frame: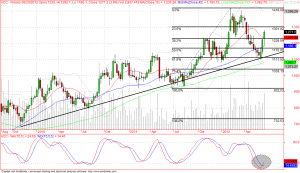 Trading call on ACC: I would be initiate long positions after the CCI report which is expected to come out tomorrow, report will reveal that if there is any penalty on cement companies. However my long positions in ACC future would be around 1240 – 1250 for positional target of 1300 and placing stop loss just below 1228 on closing basis. This article was published on date time: 20/06/2012, 23:08 PM.
This technical analysis was shared to me by Anu Kumar Anupam, my student who completed technical analysis course sometime ago. After completing this course you will be able to perform such analysis, for more details on course call me on +91-9970777789.