NEWS do impact market as it decides the present and future fundamentals of companies and stocks. This week on Monday we have seen the event of RBI's credit policy (Central bank of India), this event decides the interest rates and have high impact on markets. Out come of RBI's policy was it kept the interest rates unchanged, but market was expecting a rate cut this time. Hence we have seen heavy selling in markets, both Sensex and Nifty dropped about 3% from its high. See the chart of nifty future below: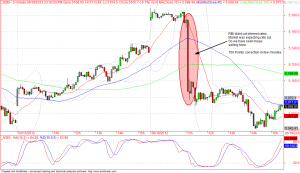 While any news is being released, wait for it to be released and don't take the trade before such news unless we know the risk of trade. If you still want to speculate then use a strict stop loss which will invalidate your trading idea, if news goes against you. News has always impacted the market after it is released, important news decide the medium term trend, while traders use technical analysis for taking positions in short term in direction of that trend.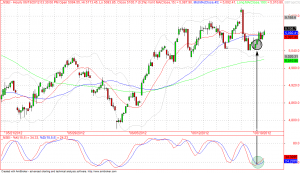 As of now if you see daily charts then you will come to know nifty bounced from 4770 to about 5190 level. This was about 400 points bounce, this cannot be just speculative trade that moved nifty 400 points in few weeks. Some positions may be speculative, but not all. So the uptrend that began here is going to continue here. I would love to take long positions in nifty future on every pullback, first target will be 5200 and on break above that level I see more up side towards 5300 level. Stop loss must be below 5000 level on charts (based on closing only). Technical indicators (Stochastic indicator in this case) has given a crossover on hourly chart today, executed my long position.
You can also learn to analyze the nifty future or any stocks like I do, join me on technical analysis course or call +91-9970777789 for demo.