Interim budget 2015 will be announced in parliament on Saturday, 28 Feb 2015. This will have a huge impact on the stock markets, currencies markets. It will be most closely watched by industrialist, corporate houses and also across the globe. The importance of this major event could be felt by the moves stock markets are showing in the last few days. Huge volatility is expected on 28th Feb 2015, so better is to take positions before the expiry of Feb F&O series.
Nifty options trading strategy for Budget 2015:
Nifty options strategy will be to long strangle, this is a volatility profit strategy. In this, we will buy nifty 8600 put option and nifty 9000 call option of March series, as February series will expire on 26 Feb 2015. Here, the total premium while buying call+put must not be more than 240 (total premium of call+put). The target for this strategy will be a total premium of 320 (call+put premium) and stop loss will be 190 (total premium). If you look at the IV (Implied volatility), it suggests this trade is worth taking. As of today's closing, implied volatility for nifty 8600 put option is 21.6 and for nifty 9000 call option, it is at 20.14.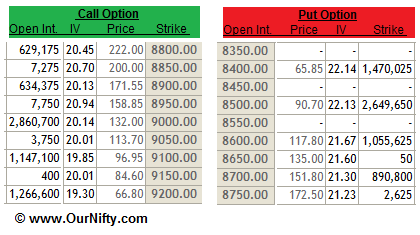 If you look at the put/call ratio, it is looking a bit confusing and suggests sideways move till budget session. Here in nifty options, highest open interest stands at nifty 9000 call and nifty 8500 put. This suggests a short-term possible range for nifty. But stay alert as open interest is still very thin as compared to previous months IO build up.
Traders looking to buy in large quantities needs to have a correct risk management discipline. Managing risk correctly will add more value to your trading career, rather than focusing on making profits.
If you are paying more than Rs.20 brokerage on nifty options then open a trading account with us.
Article updated on 18 Aug 2018.