The general budget 2021 will be announced on 1st Feb. I am expecting volatility to be high for a few days. I see IV (implied volatility) is not very high as of now. Moves during the sessions could be wild, so I will not be taking any naked option positions. I am hedging all the open positions, be prepared for uncertainty.
Spreads are the best way to trade in the time of uncertainty. I am looking for debit spreads or butterfly strategy to trade the budget session. Credit spreads will be a bit risky as the range for the day will be wider. Chances of being stopped out in credit spreads are high for the budget session.
Butterfly is a risk defined strategy with excellent risk : reward ratio. It is a 3 leg strategy. Butterfly is usually deployed using all 3 OTM option strike prices.
Trading strategy for Budget Session:
I am looking to buy Bank nifty 27300 call at 230. To reduce the cost of call we will sell 27600 call at 120. So net debit is 110, which is my cost to hold this call option. The target for this spread will be 160, holding it with a stop loss of 70. Taking only call trade because I see a positive surprise in this financial budget. Check this on how to select the correct strike price in options.
The margin requirement for Strategy:
Total margin required for selling options is high. But for this spread trade total margin will be around Rs.40,000 for 1 lot trade. Margin requirement varies from broker to broker. One thing here to note is we are bullish on the market, so if any breakout will be there, it has to be upside breakout. Have a look at live options open interest charts, you will be more confident while taking a trading decision.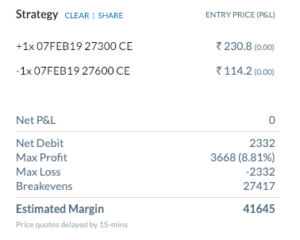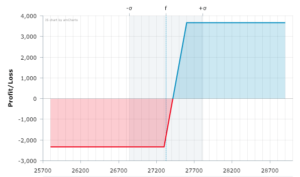 For trading options, you need to have the lowest brokerage trading account. If you wish to trade only in options then we recommend you to open a trading account with Upstox. They are charging just Rs.20 flat as brokerage. If you wish you learn technical analysis then we have started an online course on technical analysis. Course Fee is just Rs.3000/- call us +91-9970777789 for complete information on technical analysis course.