Upstox (previously know as RKSV Securities), is one of the top discount broking companies operating at zero brokerage model. Upstox was founded by Ravi Kumar and Raghu Kumar along with Shrini Viswanath.
This brokerage firm now accounts for more than 2.38% of the daily turnover of NSE & BSE around Rs.15,000 crore in daily turnover. Upstox offers a trading facility on major exchanges such as NSE, BSE, and MCX.
Ratan Tata, Kalaari Group and GVK Davix are the active investors in Upstox and their focus is to deliver a low cost and technology-driven brokerage firm.
The trading platform such as Upstox Pro Web is an in-house product build by Upstox itself. Upstox Pro is one of the best and easy to use trading platform, it has all the technical charts and indicators to make profits from trading. Also, Upstox mobile platform makes live trading possible right from your Android smartphone or iPhone.
Upstox offers ZERO brokerage on investing in equity i.e if you take delivery of shares then no need to pay any brokerage.
Trading in intraday trading in Equity, Future and Options, Commodities and Currency Derivatives can be done for a flat fee of Rs.20 per executed order or 0.01% whichever is less (irrespective of the order quantity). If you buy or sell 10 lots of NIFTY future in one order, the brokerage you will pay would still be Rs.20.
Here, you can also begin investment in Mutual funds via SIP or lump sum and you can manage your account from the single screen making it comfortable for the trader to place orders.
With Upstox, E-Aadhaar Account Opening it is possible to open your account completely online. Making it very convenient for the traders/investors who wish to open a trading or demat account. All you need to have is your Aadhaar Card number and PAN Number in order to open an account with Upstox. This process is simple and completely paperless.
Upstox is a registered member of CDSL and NSDL and is eligible to provide Depository Participant (DP) services which we call it as demat services.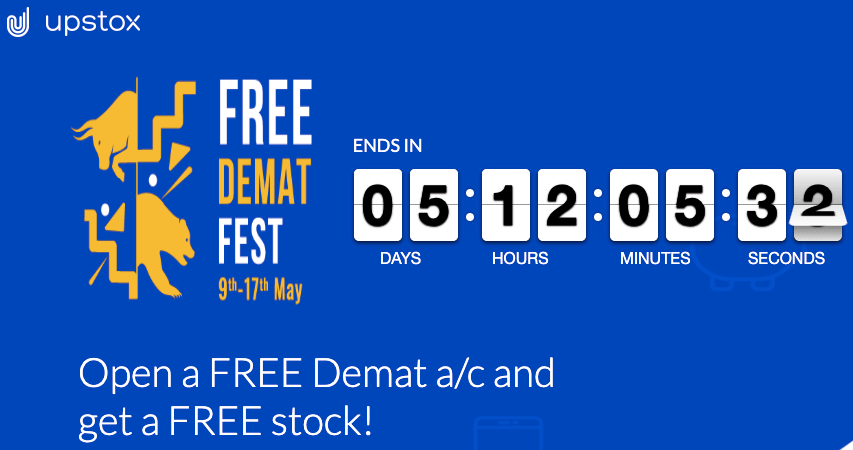 Upstox Review Video with all the details:
Learning Initiative:
Upstox has always thought of educating and training people about the financial markets. You can learn the basics of trading at the upstox learning center. There are hundreds of articles and videos to gain knowledge from experts, these include options trading strategies to fundamental investing. Several thousands of traders read these resources every day.
No Need to Login:
To make a seamless trading experience for all, Upstox offers Login less feature on its Upstox Pro mobile app. This feature allows you to test their platform, before having an account, such as:
Check the prices of all the scrips of NSE cash, BSE cash, NSE F&O, NSE Currencies, and MCX Commodities.
View Real-time charts of all scripts.
See charts with different time frames, draw studies.
Apply 120+ technical indicators on real-time charts. Including Super trend indicator.
Create unlimited price alerts for all scrips.
Create unlimited personal watch-lists.
Get notified on order placements and executions.
Access predefined watch-list of Nifty 50.
Upstox Margin 2020:
Margins for Regular Intraday Order (MIS):
| Segment | Regular Intraday | Priority Intraday |
| --- | --- | --- |
| NSE/BSE Cash | 15X | 20X |
| Index Futures | 3X | 4X |
| Stock Futures | 3X | 3X |
| NSE Option Buy | NA | NA |
| Index Option Sell | 3X | 4X |
| Stock Option Sell | 3X | 3X |
| NSE Currency | 4X | 4X |
| MCX Future | 2.5X | Upto 3X |
Margins for OCO order / Cover Order:
| Segment | Regular CO/OCO | Priority CO/OCO |
| --- | --- | --- |
| NSE/BSE Cash | 20X | 25X |
| Index Futures | Upto 5X | Upto 8X |
| Stock Futures | 3X | 3X |
| NSE Option Buy | 1.33X | 2X |
| Index Option Sell | 3X | 4X |
| Stock Option Sell | 3X | 3X |
| NSE Currency | 4X | 5X |
| MCX Future | 3X | 4X |
Note: Priority pack subscribers are charged Rs.30 per executed order.
Upstox Brokerage Charges 2020:
Upstox's brokerage plan is quite simple and very competitive. Trade in Equity Delivery is completely free and for all other segments, you pay maximum Rs.20 per executed order.
| Segment | Brokerage |
| --- | --- |
| Equity Delivery | FREE |
| Equity Intraday | 0.01% or Rs.20 (Which ever is lower) |
| Equity Futures and Options | Rs.20 |
| Currency Futures and Options | Rs.20 |
| Commodity Futures | Rs.20 |
Upstox account opening charges/ Annual Maintenance charges for 2020:
| | |
| --- | --- |
| Trading Account Opening Charges | Rs.150 |
| Demat account Opening Charges | Rs.150 |
| Commodities Trading Account Opening Charges | Rs.150 |
| Demat Account Annual Maintenance Charges (from second year) | Rs.150 |
Other Charges:
Call and Trade facility is available at Rs.20 per call order. This is charged only when you call Upstox to place a trade for you. If you are trading online, then you will save this as well.
Digital Contract notes are sent via Email for FREE. But if you want physical copies of contract notes, then you will be charged Rs.25 per contract + courier charges.
Payment gateway charges are ZERO for UPI payment. But for other modes, charges are Rs.7 per fund transfer.
Money withdrawals charges apply as per RBI guidelines. But currently, it is ZERO.
Standard NSE charges, transaction charges, and statutory levies are charged.
For STT, Stamp Duty, GST and SEBI Charges check Upstox brokerage calculator.
Upstox Referral Program:
Upstox's referral program offers existing customers the chance to earn additional money in brokerage credit by referring their friends to open an account and trade with Upstox. A special dashboard is there for existing customers so that you can track your earnings from referrals.
Account Opening with Upstox:
For online trading with Upstox, an investor or a trader has to open a simple 2-in-1 account (Trading and Demat). Account opening is the easiest with Upstox. Starting in early 2016 Upstox started a Paperless account opening system. Now you just need your Aadhaar Card Number and PAN Number to open an account online. Gone are the days of filling out multiple forms, signing, printing and sending them to the broker in the mail.
Here are the ways to open an account with Upstox:
Fill out the details in the online form here.
Contact Phone Number: +91-22-6130-9999
Support email: [email protected]
Registered Office: Upstox, 807 New Delhi House, New Delhi 110001
Corporate Office: 30th Floor, Sunshine Tower, Senapati Bapat Marg, Dadar (W), Mumbai, 400 013
Upstox (RKSV) Web, Mobile app and Desktop base trading platform – 2019
Upstox provides web browser and mobile app-based trading platforms to its users.
Upstox Pro Web – With more and more people moving towards online trading. Upstox has turned its web-based trading platform into the most sophisticated and cutting-edge tool which helps traders and investors to calculate fast and place quick trades in live markets. It is a light-weight browser-based platform that you can access on your computer, laptop or tablet–without having to download anything.
Upstox Desktop – One of the most reputed trading platforms "Omnesys NEST" is the official trading terminal for Upstox. This trading terminal is a one-stop-shop for your trading needs, from advanced charting to quick order placement, portfolio, fund transfer, margin report and Market Watch. Customizable interface, Multi-Monitor support, customizable hotkeys and shortcuts.
Key features of Upstox Pro are:
Fast market feeds
Trade on all exchanges & all segments with a single Sign In
Real time quotes
Instant notifications
Bank transfer available with 40+ banks.
Real time margin – alert for margin changes
One click trades.
Keyboard shortcuts – like desktop, you can use shortcuts for trading in the browser of your choice.
Account balance, historical reports, daily order status reports and much more.
Final thought about Upstox
They are one of the few discount brokers who are trying to provide decent service to their clients. If you are interested in an opening account, we would advise you to go with Upstox.