<!—OurNifty.com Below Title—>
Daily chart of titan is showing a fresh trading opportunity for short term. As the trend in titan is up, so we are only looking to buy this stock on every declines. Stock has a support area around 275 level and this can be used as an opportunity to enter the stock for the short term gain. We will be adding a fresh long position in titan around 278 for positional targets as 300 and then 313. While, stop loss placed just below the 270 on closing basis only. You can see risk (stop loss) is just 8 points but the reward (target) is 25 points, so risk reward ratio is higher than 1:3 and makes the risk worth taking.
<!—OurNifty.com Random—> <!—OurNifty.com Random 2—>
Why to buy Titan:
The correction in this stock is just because of the correction in the broader markets, but the trend still remains up and every declines must be taken as a opportunity to buy in small quantity. We are very bullish on nifty in medium term and also on titan.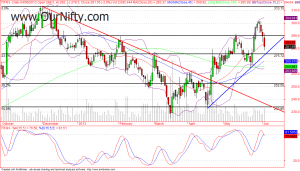 <!—OurNifty.com Below Post—>