Double bottom pattern is just opposite of double top pattern that we have discussed previously. This pattern is very easy to trade and learn how the market forces will be changing the direction of stock at some level. In technical analysis, this pattern offers higher chances of success if trader picks the trade with this pattern. A trader can freely apply and trade this pattern on any time frame chart as he comfortable with, even on intraday time frame chart. See how this pattern looks in below image: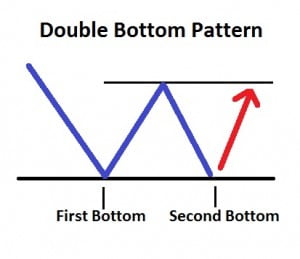 How to trade Double bottom pattern:
Check for the price to arrive near the second bottom zone.
A trader should go long on the stock when it bounces at the second bottom. So our buying opportunity will be only at the second bottom level.
Next time when the same level is reached, then trader must watch price action very closely. Next time the same level will be no trade zone. Because price action may break or hold the level. If a trader wanted to trade the third bottom, then strict stop loss should be followed.
The double bottom pattern usually gives excellent trading opportunity with a higher risk-reward ratio, most of the time you may see 1:2 risk reward ratio. In many cases, it is also seen as high as 1:4, so 1 part is your risk and 4 parts are the reward if the trade goes in your favor.
If you want to learn technical analysis, call us on +91-9970777789.