The nifty option contract is highly liquid contract traded on NSE. Understanding in which direction the smart money is flowing can help us create a great trade. To find the smart money flow, let us look into the nifty option chain. I personally recommend using one available at nseindia.com.
Using Nifty Option Chain data:
Then we should look for the strike price having the highest open interest build up in calls and puts. That should be the near term range or we can also take it as support or resistance for nifty.
Now look for the change in open interest and find the biggest positive change. Here positive change is mandatory as it indicates huge option writing. So this is where guys with deep pockets are putting their money, I call them smart money.
Once or twice a month you will see an addition of more than a million shares (10 lakh shares) in open interest. When it happens, it means the market is likely to take a big move in one direction.
Let me clear that, for example, if nifty 11500 call option see the addition of 1.2 million shares (12 lakh shares) in open interest. Then it is a sign that market is not going high at least not above 11500 level in next 3-4 trading sessions. So Nifty may remain sideways or start to go down (both scenario option writers making money).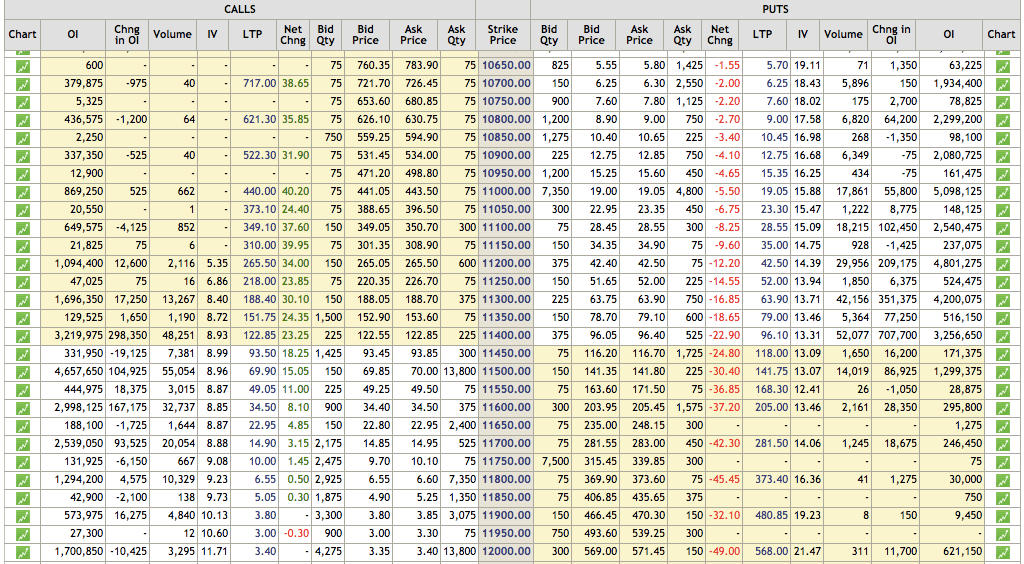 How should we take advantage of this data?
Well, we should be writing call options of the same strike price on which we saw open interest building up. It is because, when we write call option (short selling call option) we are having a view that the market will not higher. As the series comes to expire, time decay will work for us.
Now, the market can show any of the 3 moves:
Move downward
Move sideways
Move upward
If we are option writer, then 1 and 2 events will work for us, whereas in case of the event 3 we will lose money. So chances of winning for an option writer is 66.66% and a chance of winning of an option buyer is just 33.33%.
Now it makes sense to write options instead of buying them, Right. While doing this analysis, make sure you do it around 3 pm on the trading day. So if you observe OI build up on nifty option chain, then you can take a trade before the market closes.
Watch this video, which explains the same in Hindi:
If you are interested in learning such analysis, then join our Technical Analysis Course or call us at +91-9970777789. Open the lowest brokerage trading account with us. We have also started options trading course for options traders, our main focus will be to teach you options trading strategies on nifty options and banknifty options. Just give us a call on +91-9970777789 for more info on options trading course.