Aditya Birla Nuvo is looking bullish after the recent breakout above the resistance of the range. we see solid buying opportunity int he stock for short term gains. A pullback must towards the support zone (previous resistance) must be the area of accumulating this stock. So buy ABIRLANUVO in 1020 to 970 range for short term target of 1135.
Look for weekly chart below: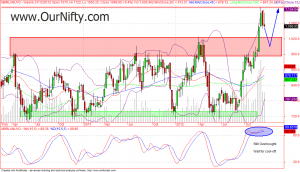 Stochastic indicator is showing stock is over bought and we will wait for stock to give a pullback, pullback trading is better. Stop loss for this trade will be below 920 zone. This stock was trading in range of 1000 to 720, before the breakout.
On daily chart, we see trend-line support which is likely to hold, so aggressive traders can buy stock on test of the trend line, others can wait for stock to enter support zone represented by RED area on chart. Article published on 22 December 12.
Daily chart is here: