Federal-Mogul Goetze is a mid-cap stock and has been in a strong uptrend since 2009 and I believe it to continue for some time. This stock is taking support on a advancing trend-line, as I see the weekly chart sock has already approached trend-line. So its a buy recommendation on this stock for short term. Trading volume of last session, were much higher than its monthly average. Higher volume at trend line is convincing me to buy this stock. Also on the weekly chart I see 100 EMA just below the price action, so it will prove to be a strong support for this stock. On drawing Fibonacci retracement using high of February 2012 and low of March 2009, I see stock is trading at 32.8% level (217 zone on chart), which should be strong support zone. Doji candle is seen on that support, which is a sign of reversal. However any indicators has not given crossover yet, so expecting sideways movement for next few days. Look at the weekly chart of FMGOETZE below: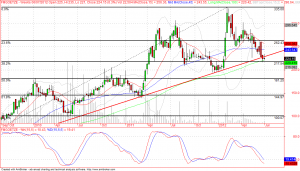 I don't see immediate bounce here, some healthy consolidation is more likely here; So accumulate FMGOETZE in small quantities around 220-225 zone for target of 270 and then 285 in few weeks. Stop loss for this short term trade will be just below 205 level. This trade is excellent example of risk management, as we are using about 1:2 risk-reward-ratio.
Now anybody can become technical expert, just join our technical analysis course, fees Rs.3000/- yes its just Rs. three thousand (which sometimes ago you paid to tips provider). You can also call us on +91-9970777789 for complete details.
For faster updates join our free SMS list, or like our Facebook page or follow us on Twitter. Article written on 8 July 12.